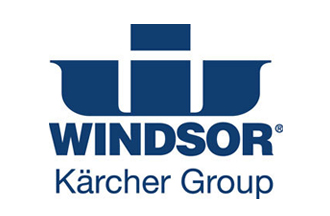 Windsor Industries – Innovative Equipment Solutions
Windsor is about innovation. We know you need to do more with less. Every day. You have told us that you need to get more out of your people, your facilities and your time. That's why Windsor is focused on providing Innovative Equipment Solutions to cover all your cleaning needs. With the Windsor line of equipment, you can clean any floor, anywhere, around the world. We are focused on bringing you the best new products in the industry.







Scrubbers
Windsor offers a full line of automatic floor scrubbers with performance options that enable us to custom fit a machine to your facility and needs.
Burnishers and Floor Machines
Providing power and versatility for buffing and polishing or scrubbing and stripping. A wide range of configurations ensures you get the right machine for your job.
Vacuums
Windsor is the leading manufacturer of commercial upright vacuums, offering a 35-year track record of durability and innovation. Our Versamatic and Sensor models are the industry's most popular upright vacuums.
Extractors
Windsor's attention to design details in our machines increase productivity in large areas, maneuverability in small areas, and provide unprecedented dry times. We offer a broad variety of self-contained and portable extractors to handle all your extraction needs.
Sweepers
Windsor's full line of sweepers provide fast, efficient sweeping for cart and hard floor surfaces, both for indoor and outdoor applications.
Chemicals
Red Carpet is the complete carpet care system in Windsor's family of chemical products. Red Carpet products are designed for carpet extraction, interim carpet cleaning deodorizing and spotting applications in commercial and industrial environments.
Specialty Cleaning Machines
Windsor's specialty surface machine are designed for multi-surface cleaning. From Steam cleaning with the new Zephyr to Grout cleaning with the grout Hog, we've got your cleaning needs covered.
Accessories
Selecting the right accessories helps clean your carpets better. See our extensive selection of tanks, tools and wands.
For more information on Windsor Industries products visit their site at www.windsorind.com